It is now a common thing to see social media being connected to television shows. During commercial break they advertise to get on facebook to see deleted scenes, twitter to see what this star has to say about filming, buy apps on the iphone with quizzes and more. But the latest successful tactic to create more sales has been linking an online store to a facebook page.
Gossip girl is an example of this. On their facebook site you can be linked directly to the official Gossip Girl website to order t shirts and designer wear featured on the show. The CW Store is a website on its own but having it posted on the facebook page is just another way for them to increase traffic.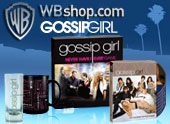 On a marketing stand point, this is very clever. Not only does it increase potential sales made through purchase, it also increases the amount of traffic the CW Store gets. Social Media is not only used to connect, it is used as a form of sales.